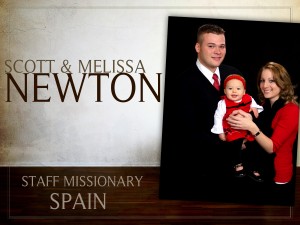 Dear Praying Friends,
The last two months have been a little crazy: between May and June we were home a grand total of 3 days! You know you have been on the road too long when you pull up to a motel, and your daughter yells: "We're home!"
Though it's nice to be home for a few days, it's been a great month on the road. We have had three new churches take us on for support, and had some of the best meetings so far. God is really touching some hearts about the need for the Gospel in Spain, and we are more excited than ever to see what God will do in Barcelona!

Prayer Requests
Salvation for people I have had the opportunity to witness to and develop relationships with: Javier & Michelle, Lenny (Lithuanian man), Michael, Chuck
Laborers for world evangelization: both goers and senders! I am so grateful for opportunities to invest in people, and help them get plugged into the Great Commission in a bigger way. Pray that I'll be used!
Financial Support: Pray that we will have the right balance of patience and diligence. I don't want to forget that progress comes from the Lord, but to work as hard as I can to the field.
Get Involved

Barcelona VisionTour '12: I am working on materials for tracts and flyers to pass out in Barcelona during our trip (April 19-25). We are thrilled by the response from people wanting to come on this trip. You should be able to officially sign up on the website (www.pswe.net) very shortly
Our Generation Summit: Please make plans now to join us December 29-31 in Gatlinburg TN! The Summit is an intense three days of preaching, teaching, and fellowship with men and women who are making a difference for Christ literally all over the world! Check out bcwe.org for more details.
As always, we are so grateful for your prayers, love, and support.
Yours for His Harvest,
Scott, Melissa, and Elena Newton