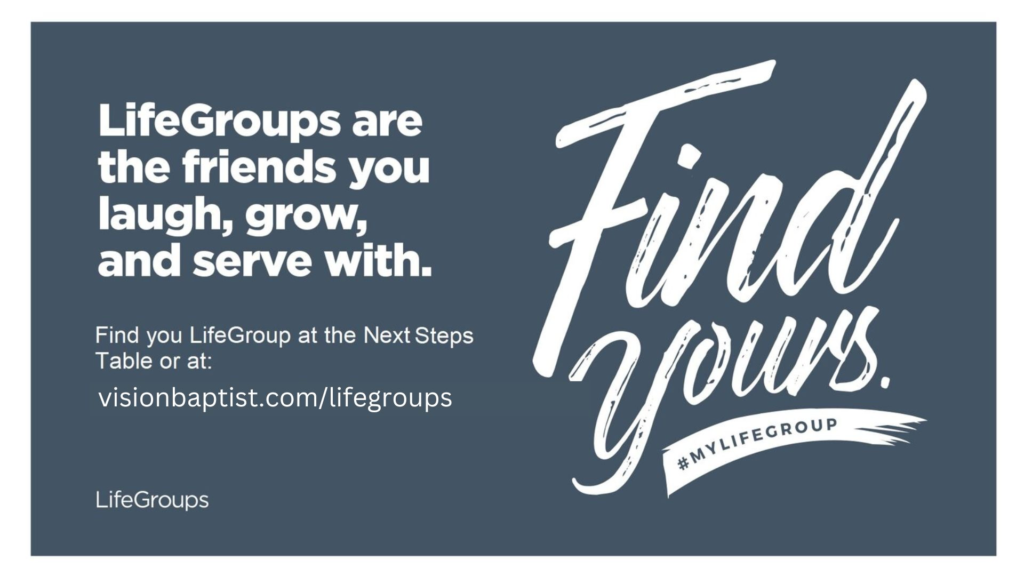 No matter what stage of life you are in we have a "Life Stage" for you. We have Adult Bible Fellowships, Student Bible Fellowships, and Sunday School classes designed to help you grow in God's Word and connect with our church family. Please let us know if you have any questions.
Campus Map to Locations of LifeGroups
Adult LifeGroups
Fellowship centered around the Word of God is something we believe that Christians of all ages should be involved. Eight of our five fellowships are open for people of all "life stages". Four are especially designated for young married and singles. Feel free to attend, visit, and get involved in whatever fellowship you find best for you!
Bridge Builders purpose to glorify God with their lives and all that He has made them to be, believing that through their profession they can give witness to what Jesus Christ has done in their lives and while making disciples for Him.
Conn3ct ministers to couples of Vision Baptist Church, creating a fellowship motivated by a desire to see other "couples connected in Christ"!
Spanning the Gap makes it their mission to strengthen the church by "spanning the gap" between the older and younger generations.
College & Career Fellowship equips a diverse group of young adults to seek and live by Biblical answers.
Come & See Fellowship finds its name and purpose in John 1 where Jesus gives an invitation to follow Him, abide with Him, and see that He is God! This Fellowship of ages and life stages enjoy pastor's conversational style of teaching and the real practicality of the lessons.
Spanish Fellowship is a fun and exciting time around God's Word, praying, and preparing for the morning service. 
Student LifeGroups
To learn more about our ministry to middle school and high school students check out the Students of Vision website. 
High School What? So What? Now What? The high school Student Bible Fellowship is where Bible answers meet teen issues.
Middle School This Student Bible Fellowship cultivates a desire in our middle school-aged students to worship God in spirit and in truth, leading them to know God through His Word.
Sunday School for Kids
To learn more about our ministry to kids, click here.
Little Explorers provides a lively environment for our 3- to 5-year olds, assisting them in discovering truth from God's Word.
Treasure Hunters leads our first- through second-grade students in an exciting study of the Bible helping them treasure God's Word.
Bible Pioneers guides third- through fifth-grade students into becoming developed and determined students of God's Word.