We were excited to see just over 200 in attendance today in our morning service! We are grateful to God for the people He continues to send our way! Pastor taught a clear and "straight from the Book" sermon from the first part of Matthew.  Kanon Bloom, who organizes our outreach, prayed over our pile of invitation cards we will be giving out this week. It was exciting to see Pastor Robert Canfield baptize Isaac Harris. Isaacs family is fairly new to the church and has already been a tremendously blessing to all of us. Here is a short video from Isaac sharing why he is coming to be baptized.
Isaac Baptism from Our Generation on Vimeo.
We had our Tailgate Party today to kick off Gospel Week! Considering the great feedback this probably will not be our last. This week we will be out in the community giving out 10,000 Easter Invites and Gospel literature. We understand how important the resurrection is to all we believe and look forward to celebrating it together next Sunday.
We had a fantastic meal together. We had Ty Pepperdine, Chuck Littlefield and Brian Cherry on the grill serving up burgers and hotdogs. The High School class was serving "the JP", a roast beef slider and home made ice cream. We had some BBQ chicken sliders and Leisa Littlefields famous banana pudding. Ryan Murphy was showing off on his famous brawts. Faith Inisisiegnmey and Stephen Cofield created some magical sauces for the wings. I saw some of Jessica McKinnon's buffalo chicken dip come and go quickly. Several brought chips, drinks, and Little Debbie Snack Cakes. Everyone chipped in! If I named everyone I would name everyone in attendance! It is amazing how our church comes together and makes days like them seem easy!!
This is not a very good picture. It is my "truck inventory" picture. Andrew Pearson accused me of just wanting to know who in the church had a truck. I am always asking someone with a truck to help me. This is about half of them. I am sure Beth Robi and others will be posting some pics on Facebook tonight. Special thanks to Beth for taking family pictures for the new church directory.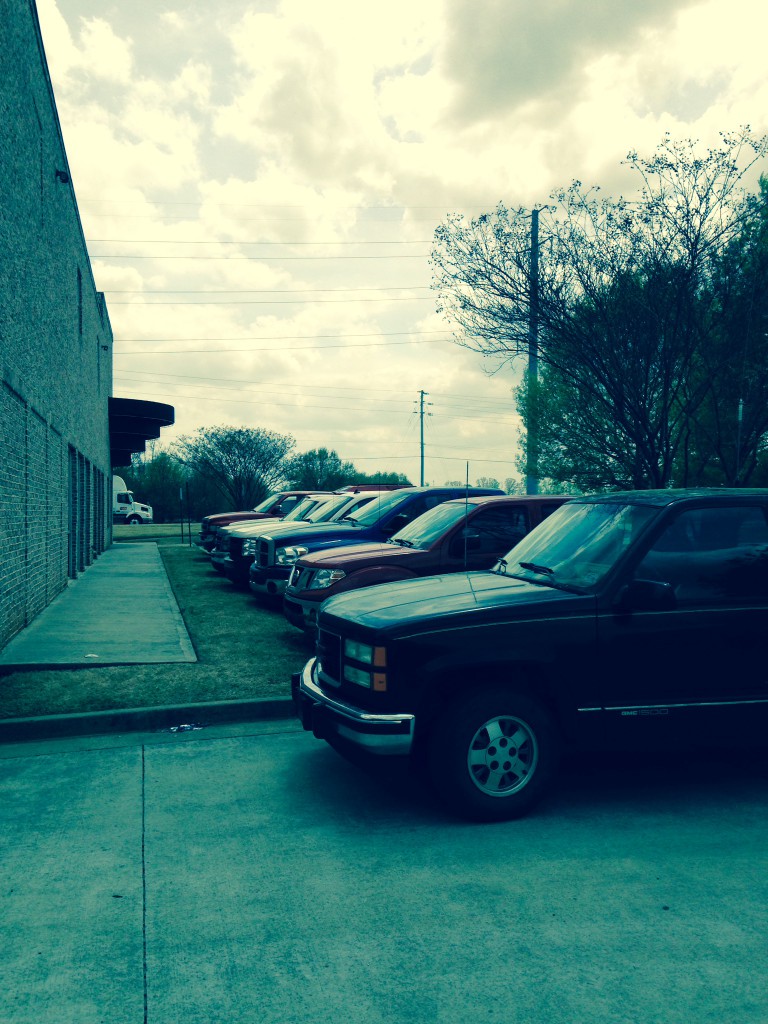 Finally here is a picture of about 14 of us from Vision who went down to University Baptist Church in Atlanta, GA to help Pastor Gary Ledford and his church prepare for some renovations. We are thankful for their ministry inside of 285. It is in the heart of our church to encourage those serving inside the city. You will notice I, Trent, am not in the picture. I did not carry many pews after I tried to carry two. I am so grateful to serve with a group of guys who really have a willing heart and ready hands to serve. We knocked out a big job in about an hour and in the process was a blessing to our friends there!