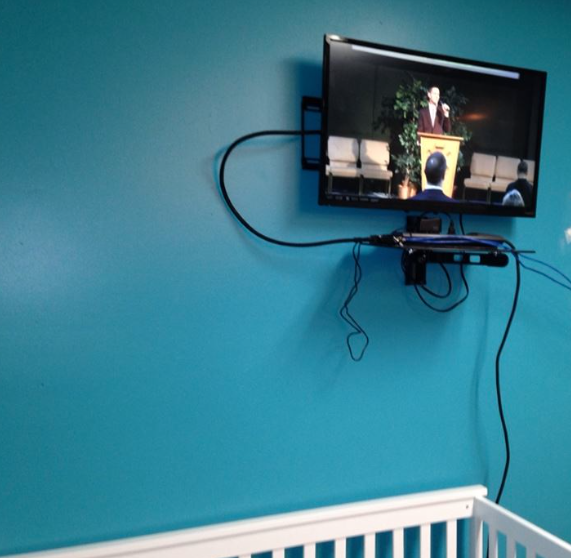 We had a wonderful today together! Several first time visitors in the morning service. It was also nice to get to meet Paul Gooding's parents as well as Tim Caucutt's parents. It is always amazing how many people Pastor Frick knows. If anyone ever visits from the far north he knows someone they know.
Above is a picture of one of the two new televisions in our nurseries. Thank you Andrew Pearson and the others who serve in our media ministry that made this possible. It will be a great way for our childcare volunteers to joining in the singing and listen to the sermon, children permitting.
We started our service off with 12 members of Vision going us a brief update from Santiago, Chile. They are there ministering the in the ministry started by the Holt family. They also had spent the last few days in the Latin Bridge Conference. During the sermon we learned about VOWS and VENGEANCE from Matthew 5:33-42. There are two different manifestations of the same problem of the heart. In BREAKING VOWS and in SEEKING REVENGE we desire to take from someone believing it will make us COMPLETE. As children of God you are complete in Christ!
We are excited to hear that Vision Baptist Church in Cobb County had 3 first time visitors. Beau Carpenter will be preaching in the services while Pastor is traveling. Pastor Robert took a group of college ages students to the evening service. Continue to pray for this church as it grows and reaches deep into the community.
During our 4:20 TWM (Teacher & Workers Meeting) we looked at some of the events coming up in the life of our church. From the Tailgate Party in a couple weeks to the Public Servant Sunday on June 22nd we have many opportunities to minister to those in our community. It is awesome to works with such a dedicated group of volunteers.
Tonight in the evening service a small ensemble sang a song that came from Exodus 15. It was beautiful and really helped turn our hearts toward Heaven. We ended the service singing it with them after studying Moses song in Exodus 15. This song, from scripture, is a song that calls us to reality. The reason that we gather as the people of God is to worship the living God.
We would like to say "hello and we will see you soon" to Emma Pepperdine. We know she reads these updates. We are very proud of how she is living for Christ as a college student. Also I am glad to know she will be going with some friends to see Light in the Darkness as it shows at Pensacola Christian College tomorrow night. Next week Jeff Bush leads a group down for a one night event, missions prayer band, at the college.