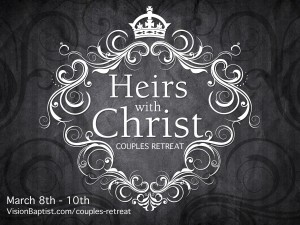 "Likewise, ye husbands, dwell with them according to knowledge, giving honour unto the wife, as unto the weaker vessel, and as being heirs together of the grace of life; that your prayers be not hindered." – I Peter 3:7
March 8th is the start of our annual couples retreat, and you and your spouse do not want to miss it!  Pastor Derick Lawrence and his wife, Michelle, will be joining us as our guest speakers.  Pastor Lawrence is an extremely insightful, Biblical, and humorous speaker on the subject of a godly marriage.  He and Michelle will be great encouragers to you.  Pastor Austin and Mrs. Betty will also be speaking throughout the conference.  Their wonderful marriage and wisdom will be a great help to all of us.
 We are looking forward to spending this wonderful time in the Word of God with the married couples of of our church. We will spend time looking at how our relationship with our spouse is directly impacted by our understanding with our position with Christ! We are HEIRS WITH CHRIST!  This is incredible news should have an impact on the way we live out our marriages.
Below is some information on the retreat:
Dates: March 8th-10th
Location: Forrest Hills Retreat Center
Cost: If you pay by this Sunday, the cost is only $200.  After that, it goes up to $230.  This cost included a two night stay and three meals.
Basic Schedule:
Thursday
Check In | 5:00 – 6:45 (You should eat supper before you arrive.)
Joint Session | 7:00 – 9:00 pm
Friday
Breakfast | 8:30 am
Sessions | 9:30 am – 12:30 am
Lunch | 1:00 pm
Free Time
Date Night | Dinner at your restaurant of
choice. (not included)
Evening Session | 7:00 – 9:00 pm
Saturday
Breakfast | 8:30 am
Morning Session | 9:30 am – 11:30 am
Dismiss before lunch
For more information and to register, visit the website.  Be sure to register before Sunday to take advantage of the special discount.
We look forward to seeing you at Forrest Hills on March 8th!