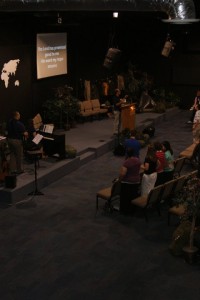 For several years, Philip Bassham was the music man for our church.  When Philip took over the music, the church was still young and new.  Philip realized that the direction he set the music program on would influence the music at the church for many years to come.  But more importantly, he knew that the philosophy on which the program was built would determine what type of songs were sung and how they were song.  So he studied to develop a Biblical philosophy of music, a philosophy that has ensured that every song sung at Vision Baptist Church glorifies and honors God, even to this day.  Below are some of the Biblical truths on which Philip built our churches philosophy of music:
Fundamental Truths about Music:

A good philosophy is about more than music – it is about worship.
The Music should be God-like.
Music is the creation of God, created before there were any humans (Job 38:4-7).
Music is a reflection of God's nature.
God sings over his people(Zeph. 3:17)

What is the purpose of music?

Music is very close to praise and worship

The 1st song is found in Exodus 15 – They sang to the Lord praises for deliverance
The last song is found in Rev. 15 – The song of the lamb.  He says it is only for praise and worship and to turn their hearts toward God.
Music is a gift from God.  He will use it for his plans and purposes.  Here are some characteristics of music in worship.  It must:

 express the work of the Spirit. (Eph 5:18)
expound the scriptures (Col 3:16)
teach and admonish (Col 3:16)
Have a Biblical Message
Be understandable (1 cor 14) – if people cant understand it, they can't be led in worship. If the message isn't understood, it doesn't edify.
Exalt the Savior
Have no question about what it is talking about

But what God gives, Satan tries to pervert.  He uses music to communicate a false messageand as a way to teach a lie – it is immoral.  He uses it to breed rebellion into hearts – the message matters.
This is just a brief overview of the Biblical truths Philip developed the musical program of our church on.  We are so thankful for the awesome people at our church who spend so much time practicing and organizing our music.  They play an absolutely vital role in every single service and have helped to make the church what it is today!