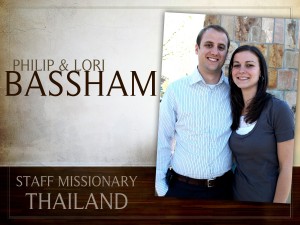 Deputation Update
We have had a good time lately traveling and preaching and want to praise the Lord for how He continues to raise our support. Our support level at 11 months is just over 40% and promised support is much higher. We have not been very far from home for extended periods of time over the last couple of months, but we are about to start on our longest road trip of deputation so far. We are going to start in AL and then go through KY on our way out west to Montana and Idaho. Pray that these will be profitable meetings as we continue to work toward Thailand soon!

Other Ministry Opportunities
When we aren't traveling on deputation or calling to set up meetings, we have the chance for some other ministry opportunities. One of those was a recent one day youth camp that our church put on with some area churches. We had a good time at that and saw the Lord work in some hearts.
Another opportunity I had this summer was to teach a two-week module at the Our Generation Training Center. This summer it was on Creation vs. Evolution and we pray that this will be used by the students as a foundation as they will go all over the world one day to preach the inerrant Bible.

VisionTour Thailand 2012 Date Change
We have had to move the date up one week for the VisionTour to Thailand next year due to the date change of the OG Camp. The dates are now June 4-15, 2012. If you are interested in joining us you can get more information at http://projectthailand.net/trip where you can find the application, schedule, financial information, and other ways to help you be able to join us. Come with us!

Setup Fund
I would like to as you to be praying for our setup fund. If you would like to give specifically to this need, you may send it to Vision Baptist Missions and mark it "Setup Fund". Thank you for praying about this and we look forward to that day!

Our Generation Summit
This December 29-31 we will be a part of the Our Generation Summit, a family oriented missions winter retreat in Pigeon Forge, TN. We would like to encourage and you to consider being a part. We have been involved in it for the past 5 years and have seen God do incredible things every year! Some have described it as a missions conference on steroids, and we look forward to seeing what He is going to do this year. For more information visit www.bcwe.org
Thank you for praying and supporting us. Pray that the Lord would use us as we travel and especially that he would raise up laborers for Thailand.
Yours for the Gospel in Thailand,
Philip and Lori Bassham