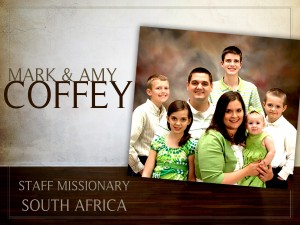 It's been two months since I announced my ministry change from missionary representative to church planting missionary to the country of South Africa. I am excited and encouraged from the positive responses I have received from supporting pastors, other friends, and family.
We have around 25% of our needed support. I am eager to get to the field, but I thoroughly enjoy going into churches and presenting our burden for world missions. We pray the Lord can use our family to raise more workers for the mission field during our travels over the next year and a half.
Traveling

These past two months have taken us to several churches in Georgia, Tennessee, and South Carolina. I have dropped into quite a few churches because of open services, but our calendar is now filling up pretty good.
Family

We are in the process of adopting my two second-cousins, Tyler and Chase. They have been living in our home for over two years now. The adoption process is going slow, but is progressing. I am hoping to get all the paperwork completed in the next month. Please pray that everything goes smoothly from here on out. Getting all the needed signatures has proven to be quite a challenge.
On a lighter note, my youngest son, Luke, finished his regular baseball season. His team was county champions, a pretty good accomplishment for a seven years old. With our deputation starting up full time, this may have been the last opportunity for him to play on a team for quite a while.
Camp

During the first week of June, we participated in the 2011 Our Generation Teen and College Student Camp. We saw the Lord work in a lot of lives. Pray for these young people as God continues to lead them.
I truly want to thank everyone for their prayers and support. We are so privileged to get to meet and know great people like you.
Here to serve,
Mark, Amy, Tyler, Chase, Emilee, Luke, and Addison.