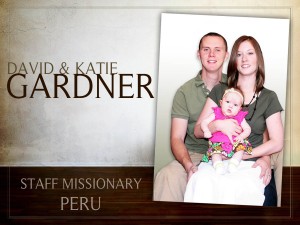 Dear Pastors and Praying Friends,
It is quite shocking to think how much we have travelled since we have been back in the U.S.! We arrived the first part of November and since then we have driven about 25,000 miles around America. We have been as far west as Kansas City and Houston, as far north as Ashland, Ohio and as far south as Jacksonville, Florida.
We are excited to be able to continue updating supporting churches and also present the ministry that God is doing in Peru to potential supporters. It is always exciting to be able to tell the stories of what God has been doing in Peru through our family and ministry. If you would like for us to come in and present the ministry to your church, please contact me by email: [email protected] or by phone: 770-597-4750

The Work In Peru
It is always a huge encouragement to know that the work of the ministry does not depend on us, but on the Lord. We have been able to stay in close contact with many of the people that Katie and I discipled while we were in Peru and have seen them continue to grow and deepen their relationship in the Lord. They have started to serve in the church and get involved in different ministries and see God work in their own personal lives.
Omega Baptist Church was able to raise funds for a much needed platform that Jeremy Hall built just a few weeks ago. Now everyone can see the very short music leader.

Katie's Health
Please continue to pray for Katie as we work through different prescriptions, etc. She is doing much better, but we still have a good ways to go. Please pray for us as we travel, that can affect Katie's health a lot.
Thank you for your prayers and support.
For His Glory,
David, Katie and Chloe Gardner
Missionaries in Peru
Macedonia World Baptist Missions