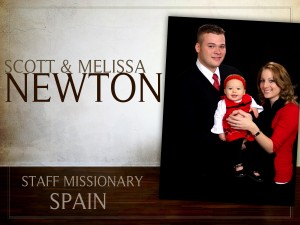 Dear Praying Friends,
Where to begin? It has been a full month, and as always, full of God's blessings! One of my favorite verses in the Bible is Eph 3:8, which says: "Unto me, who am less than the least of all saints, is this grace given, that I should preach among the Gentiles the unsearchable riches of Christ" It really is grace to get to preach Christ!
Deputation Update:

This past month we have presented our ministry in TN, MS, LA, and GA. We were home two days in May, and this month we will not be home at all as we travel in OH, NH, and NY. We are thankful for a full calendar, and we have had two new churches partner with us financially in May, praise the Lord! We are currently at 30% of our needed support.

Prayer Requests:
Pray that support will continue to increase: can't wait to hit the ground in Barcelona!
Travel safety.
For God to use us to bless His people in churches we visit.
Salvation of Javier and Michelle, a couple we have been working with.
More laborers, more laborers, and more laborers. Too much of the world has heard too little of the Gospel.

Get Involved:
Barcelona VisionTour '12: We have open spots for about 15 more people to come with us April 19-25. Come see the need in the least evangelized Spanish speaking country in the world, and how you can be used to make a difference! A sign-up form with more information will be available on our website shortly (pswe.net)

Our Generation Summit: Now is the time to mark off December 29-31, and plan to be in Gatlinburg TN with us! The Summit is an intense three days of preaching, teaching, and fellowship centered around how YOU can live a Great Commission centered life, and be used of God to reach the world with the Gospel. Come and see why these three days are the highlight of hundreds of people's year! Check out bcwe.org for more details.
Thanks again for all of your faithful prayers, love, and support!
Yours for His Harvest,
Scott, Melissa, and Elena Newton