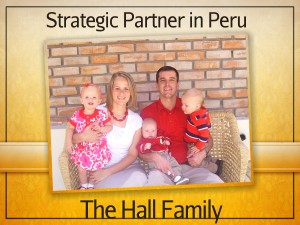 First of all, thank you all so much for praying about our Missions Conference last month. We were able to see two young men surrender their lives to serve the Lord fully! Secondly, we were able to raise our first Faith Promise total to s/.12,780 (+/-$4500) per year, which exceeded my expectations!
One of our visiting missionaries this past month was a young man named Renzo Zuñiga. He and his family will be serving as Church planting missionaries in Morocco, North Africa. They left for the field last week. They both were trained in the Peru Bible College. Please remember this family in your prayers as they have begun setting up their home and will soon begin language studies.
Speaking of the Seminary, classes have now officially begun. We have a total of 33 students, 10 of which are brand new. Alvaro has also recently decided to start classes at the Seminary, and believes that the Lord is calling him into full time service. Please pray for him as he takes the necessary steps to make that happen.
Coming up this week we will be celebrating our first year anniversary at Iglesia Bautista Omega. On Sunday April 17, we will be having a special service with 3 preachers, a banquet, and a good time of fellowship and games with our church family. We will be passing out 5,000 invitations this week. Please pray with us that God will bring in many visitors.
On Sunday, April 10, Peru held their first round of presidential elections. There are a few concerns with one of the leading candidates and what it may mean for missionaries if he is elected. The runoff will be held on June 5. We know "the powers that be are ordained of God" and we will be fine either way. We would just like for you to remember Peru and its leaders in your prayers.
Quick update on what is going on with the "El Faro" construction project. We have had another faith friend decide to make a hefty donation, $2000! That brings our new total to $9200. I had planned to end the fund-raising after our missions conference, but have decided to extend it again until the end of April. If you haven't given yet and would like to, please send all donations to MWBM P.O. Box 519 Braselton, GA 30517 Att. Jeremy Hall (construction project). They are only lacking $5,800 to finish their building.
Last, but certainly not least, we would like to ask you to keep our colleagues,
Chris and Andria Gardner, in your prayers. As some of you may already know, they recently had to return to the states for medical reasons concerning their newborn Joshua. He was born with a cleft lip and palate and received his first surgery last week. Everything went well with the surgery and he should only have to undergo one more before they can return to Peru. Please pray for a quick recovery.
We are thankful to see how the Lord is working here in Arequipa, Peru. We know that it would not be possible for us to be here without your support. Thank you so much for all that you do!
Serving in Peru,
Jeremy, Rebekah, Brayden, Olivia, and Jackson Hall