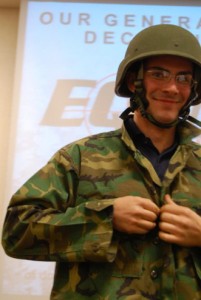 Dear Praying Friends,
Thank you again for your prayers and support. Thank you for making this time in Peru all possible. I have now been in Peru for 5 months and the Lord really is using this time in my life. My Spanish is coming along slowly but I will be finished with my second language book this week. I now know how to speak in past tense. It is very nice being able to understand a good bit of all that is going on around me.
The Lord really blessed last month! All month we heard messages on missions. Then in the missions Conference Juan Pacheco preached on missions for 4 days in a row. On Sunday night we took in all the Faith Promise cards and the Lord had raised about 12,480 soles a month for missions. It is more than we were praying the Lord would bring in. We were also able to raise $9,200 for the church building project of Juan Pacheco. We are still pushing for the rest of the money by the end of this month. We lack a little more than $5,000. If you would like to help with this building project send you money to:
World Baptist Missions
P.O. Box 519
Braselton, GA 30571
Att. Jeremy Hall (construction project)
This Sunday is the first anniversary for Omega Baptist Church! We will be having a 2 hour service on Sunday morning with a lot of preaching and review of this past year. We have printed off 5,000 fliers that we will be inviting people with this week. Please pray that many people will come to the service and most of all that someone will accept Christ as Saviour.
Prayer Requests:
For God to bless Omega Baptist Church
For Celebration Sunday
For Our Generation Camp this year (http://bcwe.org/)
In Christ,
Micah Rastelli
[email protected]
http://perumicah.wordpress.com/