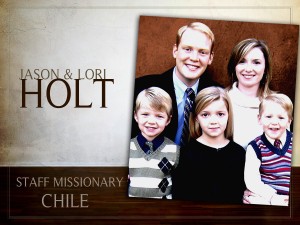 After months of prayer, God has led us to an ideal piece of property for one of the churches in Chile!!
Here's some information about the opportunity:
1. It's located within walking distance from our second church's current location.
2. It is just a few steps from the corner of two main avenues.
3. From this location we can reach two adjoining communities in Santiago that currently have NO churches.
4. The land is priced well below the market value at $59,000 dollars! (Remember that land in this metropolis city is very expensive!!)
5. The owner has agreed to give us several months to raise the remaining funds.
6. For just $10,000 we can build an auditorium to hold 80 people with three classrooms and a bathroom!
7. Currently we have $25,360 that has been committed to the project.
8. We need an additional $44,640.
Pray about partnering with us in this important need. All donations can be sent to:
Holt Building Fund c/o MWBM P.O. Box 519 Braselton, GA 30517

Upcoming Furlough!

After serving the Lord for the past six years in Chile, our family will be returning for an abbreviated furlough to the United States from June 2011 – January 2012.
Unfortunately, because of our limited time in the states, we will be unable to visit all of our supporting churches during this furlough. If you would like for us to give an update about the ministry in Chile at your church while we are in the states, please contact us at 770-456-5614 or [email protected]. We hope to visit as many of our supporters as possible!!
We know that because of you and your faithfulness to support our ministry, we are able to serve the Lord in Chile. Without you it would be impossible to continue. Thank you for all that you continue to do for us!!
Thank you for all you do each month for our family! It is our privilege to be your missionaries in Chile!
Jason, Lori, Katie, Joshua, and Andrew Holt