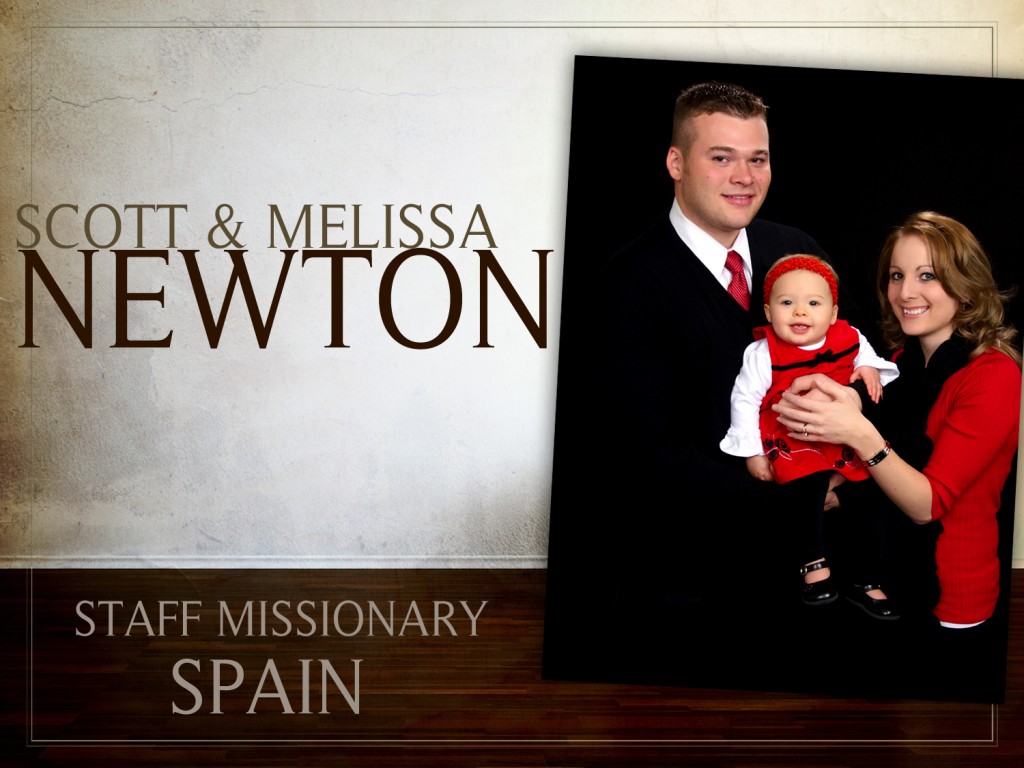 God has given us a great month on deputation! We were in 9 great churches this month, which is lower than normal because we were in 3 missions conferences. Praise God for 4 new supporters in March! Our support has been rising steadily, and we are still well on track for our target date of September 2012 to leave for Barcelona.
I get a little dizzy thinking about where all we have been in the last month: Alabama, Pennsylvania, Illinois, South Carolina, and finally back to Georgia!

PRAISES
In our last letter, we mentioned wanting to get a copy of Rosetta Stone to start working on Spanish while on the road, and within a few days that request was answered! We are already making some progress in the language.
We have been given some contacts of unsaved people in Barcelona, we want to put those to good use!
After over 30K miles on deputation, our tires were getting pretty low, and a sweet couple bought us some new tires. Thanks!

PRAYER REQUESTS
Disciples. I know that I need to be doing more now of what we will be doing in Barcelona, pray that God will open more doors even on the road to invest in witnessing and discipling people. Pray that I'll SEE open doors.
Pray for God's power as I preach to His people, that He'll continue to use us in stirring hearts and raising laborers.
Pray for support to keep coming in quickly so we can get to the field. Thanks so much to all who have given so generously!

OPPORTUNITIES
We will be leading a missions trip around April 23rd, 2012, coinciding with the largest local festival in Barcelona: La Diada de Sant Jordi (Saint George's day). We will be printing special literature with the true story of St George (a man who died for his faith in the Gospel), instead of the religious legends that are celebrated. Please keep checking www.pswe.net for more updates and details about the trip!
OG Leadership Camp: This is year Vision Baptist Church will be hosting the 1st Annual OG Camp for middle school and high school students, as well as a camp for the college-aged. God has greatly used these camps in the lives of young people for the cause of missions for 8 years now. For more information and to register, visit www.bcwe.org!
Thanks again for all your prayers and faithful support!
Yours for His Harvest,
Scott, Melissa, and Elena Newton