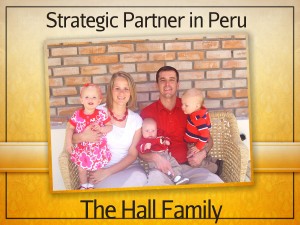 Dear Tracy,
March is almost over! Our family has just celebrated 2 years here in Arequipa. This month we have been focusing on missions at Omega Baptist. Our goal is for the people to understand and begin giving to faith promise. We are praying for s./11,000 ($4,000) to be committed. Of course we are also praying that some will be called to go to the mission field as well.
Our guest speaker for our first Missions Conference is Pastor Juan Pacheco of Faith Baptist Church here in Arequipa. He and his church are in a building project. The Lord has laid it on my heart to help raise money for them to finish. The Church itself has been giving for a while and has saved s/.9,000 ($3,250). The amount lacking is 40,000 soles or about $15,000. So far we have been able to raise $7,000 from faithful supporters. This man is doing a great work here in Arequipa and we are blessed to be able to help take part in it. If you would like to see a video of the construction project or hear Pastor Juan's testimony go to www.jmhall.info. If you are interested in taking part in this project please send all donations to our mission board labeled, Att. Jeremy Hall (construction project).
All glory to God, we have had salvation decisions in the Church every week for the past month! Bekah and I had an exciting day a couple of Sundays ago, where we both were able to lead someone to the Lord! A young girl named Erika and a young man named Frank. Pray with us as we are now trying to get these guys involved in discipleship.
I continue to meet with Alvaro as often as possible to study and talk about his future. He tells me he believes that the Lord will have him be a pastor some day. Pray with us that he takes the necessary steps to make this happen. Also, Bekah has begun discipling a young girl named Yadira. She came to the Church through our English Classes last year and as a result heard the gospel and was saved. She is very open to learning and studying the word of God. Please pray that she will continue to grow and have a close relationship with the Lord.
Classes at the Peru Bible College will begin next week. This semester I will be teaching "Principles for the Christian Life." I am very excited about this opportunity to take part in the training of young men and women for full-time ministry.  I will be teaching three times a week. Life is about to get even busier!
We thank the Lord so much for the opportunity to be her and serve Him. We also thank each and every one of you for your support financially and through prayer.  God Bless!
Thanks,
Jeremy, Rebekah, Brayden, Olivia, and Jackson Hall