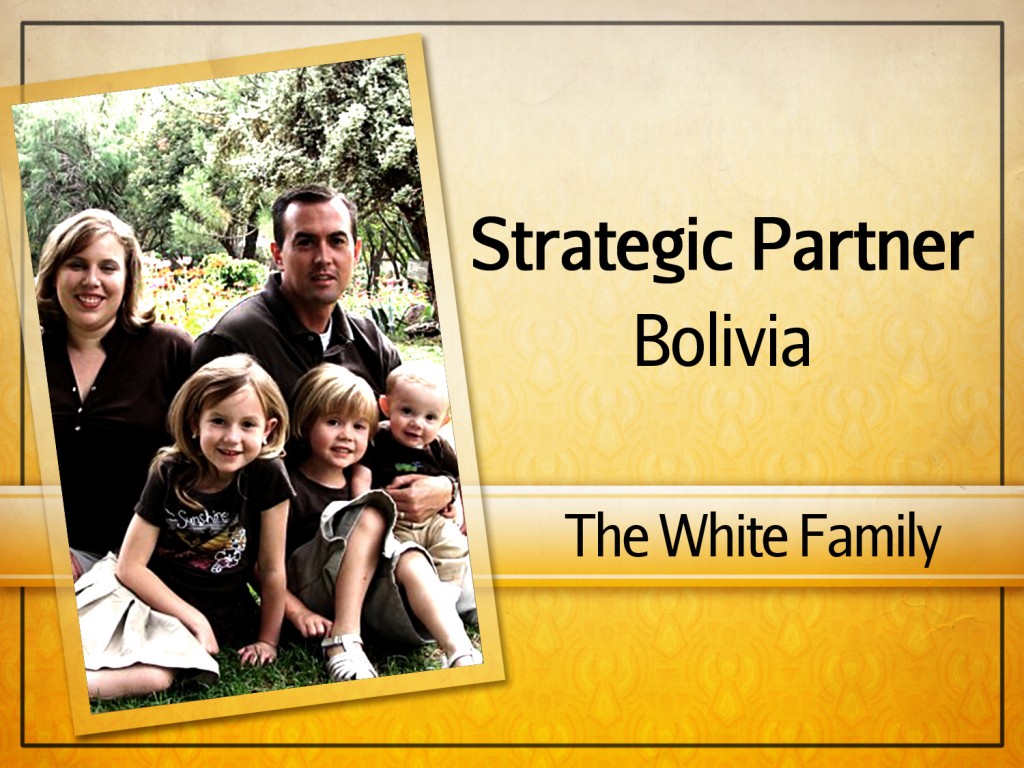 That is the best way that I can explain it, that I am just overwhelmed with how the Lord is blessing with our project to raise money to purchase land in Bolivia. This past month, we had a supporting church give $250 towards the project and another church took up $5000 in their mission's conference to take us up to $5750 total already. When we started this project, one of my concerns was with how this was going to work with the economy the way it is and that many people can barely make ends meet. As you can see, the Lord has been teaching me many lessons during this time that have changed my life. Here are three that can make a difference with this project.:
1. Prayer can overcome any barrier.
2. God many times uses those with need to meet other people's needs. (The widow of Zarephath)
3. It's not the amount that someone gives, but when God's people join together we can see a miracle.
Understanding just these three principles, can help us realize that no matter where we are we can have a part in the Lord's work. There is not a one of us, that can't pray, and we ask that you continue to pray for this need. Also, it doesn't matter your economic status if the Lord would have you give, realize that your part can make a difference to helping us reach our goal. If you would like to help please Email me at [email protected] and send to:
Macedonia World Baptist Missions c/o Bolivia building fund P.O. Box 519 Braselton GA 30517.
Personal Prayer Request

I normally don't write a lot about personal things going on in my family, but I would like to ask you to pray at this time especially for my father. He is 78 years old and has had several health issues over the past year, but this past month we got the news that he has advanced pancreatic cancer. He is supposed to start chemotherapy in the next few weeks but the doctors say that it doesn't look good and that it is going to be a tough road. I am so thankful that I have had the past year to at least spend a little time with him and hope to continue to do so, especially now that he is sick. I know that we serve a God of miracles and that He can still do one today. We are trusting in Him and praying that His will be done. We ask that you please pray for him and the family during this time.
Couples Fellowship
During our time here in the states, one of our goals has been to be a blessing to our home church. This past month, we invited the couples of the church to get together for a time of fellowship and fun. We had about 20 total that came, not counting all the kids. We started out having some finger foods and desserts that were delicious. Then we had a few games designed to get couples to interact with their spouse. Afterwards, we talked about what the purpose of marriage is. The answer to that if you're wondering, is companionship and communion. We looked at Gen 2:18 where God said that it is not good for a man to be alone.
Prayer Requests
1. Pray for my father as he goes through cancer treatments.
2. Pray for our needed support that we are trying to raise.
3. Pray for the funds needed to buy land and build a church building.
4. Pray as we are still in the process of getting our documents in order for Bolivia.