We hope you have been enjoying our member spotlights and have been able to better get to know our members. This month we are spotlighting Dan and Shannon Penrod.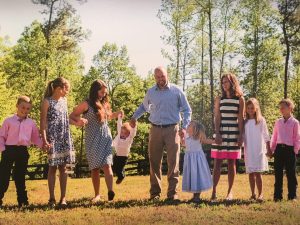 Dan grew up in a godly Christian home where his dad was a lay pastor. From birth to graduation he attended a church that taught the Gospel. While doing devotions with his mother at the age of seven, he got saved.
            Shannon was raised in the Catholic Church. When she started dating Dan during her freshman year of high school, she heard the Gospel message while visiting his church, Parkview Church of the Nazarene. But it wasn't until the age of 24 that she decided to put her trust in Jesus and believe in His power to save her. Dan had asked her before if she would like to step out of the pew and go to the altar, but she had always felt too embarrassed. But one particular Sunday, Pastor Graves kept pleading "take Jesus home with you today!" Dan and Shannon just had to look at each other and they started making their way toward the altar. That day, Shannon "took Jesus home with her".
            They first heard about Vision when they were seeking a Bible-preaching church with sound doctrine. They had just left their previous church and were going through a disappointing and heartbreaking time in their lives. Dan's office just happened to be located conveniently right next door to Vision's church building at the time. Brett Broadrick told them about the Thursday evening service at Vision, and they started attending that service.
            The Penrods love Vision because of the discipline here to stick with the Book. They appreciate the doctrine, leadership, and body of Christ at Vision. They also enjoy being part of a church whose members and missionaries live out the Great Commission. They value greatly the friendships they have grown since they have come to Vision.
            Currently Dan mentors, serves in the prayer ministry with his Sunday School, and represents Oceania on the World Evangelism Cabinet. Shannon served in the nursery for over a year and is now open to other opportunities. She is also actively praying for several friends who are not saved. Their family is also involved several community activities. We are blessed to have them serve with us at Vision Baptist Church.
Written By: Anna Skudarnov