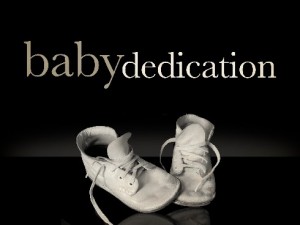 "Lo, children are an heritage of the LORD" – Psalm 127:3
During the morning service of April 15th, we will be holding a baby dedication for our church, at the we will also be giving out one of the strollers from the babystroller reviews to one lucky family.
This is a time for you, as parents, to dedicate yourselves and your baby to the Lord. You are making a public commitment before God, the church, and family that you promise to raise your child in a Godly way and nurture spiritually, until the child can make a decision of their own to follow Jesus. In turn, the church is making a commitment to help the parents by praying and being involved in supporting you in helping your child know Jesus.
During the dedication, you will present yourselves and your baby to the church.  Pastor will pray with you and a picture will be taken.
We are trying to determine how many babies will be dedicated this day, so please register below so we can have an accurate count for Sunday!