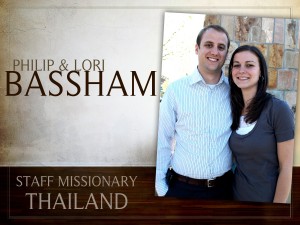 We have done more driving this past month on deputation than all of deputation so far. This past month, we were in 17 states and drove over 6000 miles! It was a blast, but I don't plan on driving to Montana again any time soon!
We have now been on deputation for 1 year and are at 51% of our support, but counting promised support, we are closer to 65%, so we are looking forward to getting there soon and praying that the momentum of the past year's work will allow us to finish very quickly!

Family – Our First Baby on the Way!
We found out this month that we are expecting our first baby! I am excited about being a Father and looking forward to raising a child for the glory of God!
On August 29th, Lori and I also celebrated our 2nd wedding anniversary, and a few days later, on the 6th, I turned 29. I am blown away by how the Lord has blessed me and allows me to serve Him as a missionary and preacher with my incredible wife.
Thailand Update
This past month, we have learned about opportunities to be able to preach the gospel even in public schools in Thailand. There are far more schools available than there are laborers right now to teach English, and we are praying that more will be raised before the schools are filled with cults and other religions fill those places. Would you ask the Lord how you may be able to be used?! The job is far bigger than we can accomplish alone.

Relocation and Setup Fund
Now that we are on the second half of deputation, we will soon be in Thailand (!) and are trying to plan in advance for the costs of relocating there permanently. Tickets, shipping costs, and housing setup make this a big expense to plan for, but we are trusting the Lord to provide.
If you would like to give toward this need, you may send it to Vision Baptist Missions and memo "Setup Fund". Thank you for praying about this and we look forward to that day!

VisionTour Thailand 2012
June 4-15, 2012 will be Lori's first time in Thailand, a more involved survey trip for us, and a chance for you to come with us and see the field!
More information is online at http://projectthailand.net/trip where you can find the application, schedule, financial information, and other ideas to help you be able to join us.

Our Generation Summit
This December 29-31, we will be at the Summit – a missions oriented winter retreat in Pigeon Forge, TN that we promise that you will not regret. We would like to encourage and you to consider being a part.
For more information visit www.bcwe.org.
Yours for the Gospel in Thailand,
Philip and Lori Bassham