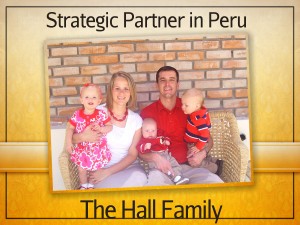 These past few weeks have been really exciting at Iglesia Bautista Omega. Two Sundays, ago we were able to see three men saved! Last Sunday, we had an awesome service and afterwards a church potluck, with 126 in attendance! We had more than 20 first time visitors last month, and one young couple joined our membership. God is so good! We are so grateful that God allows us to have a small part.
God is also answering another prayer request. One of our annual goals was for the church to be self-supporting by the end of this year. For the past two months, the church has met budget and more! On their own, they are currently paying two assistant pastors, while paying $715 a month for rent, all utilities, and supporting four different missions projects totally $230 monthly. I am absolutely blown away by how God is working in their hearts!
Classes continue at the Peru Bible College. This semester I am teaching a class on personal finances. I have carried this study over to our Thursday night Bible study at Omega. It is an incredible study of Biblical stewardship and how the Lord has blessed us to be a blessing.
We ask you to pray with us as we are starting to prepare for this year's drama "Revelation." It will be taking place in November, spread out over three weekends. We are excited about having the team from Faith Baptist Church, in Lagrange, GA come down again this year to help out. The Lord blessed last year with over 2,300 in attendance. This year we are praying for 5,000! Please begin to pray with us that many will be saved and Jesus' name will be lifted up!
Make plans now to attend this year's "OG Summit" in Pigeon Forge, TN. The dates are December 29-31, 2011. This is a great opportunity for adults and young people to learn about missions first hand from missionaries currently serving around the world. Bekah and I will be coming in this year to participate. For more information go to www.bcwe.org. Hope to see you there!
As always, we thank every one of you so much for your prayers and support of this ministry. We ask you to please continue praying for our family and ministry as we seek to serve the Lord here in Peru.
God Bless,
Jeremy, Rebekah, Brayden, Olivia and Jackson Hall