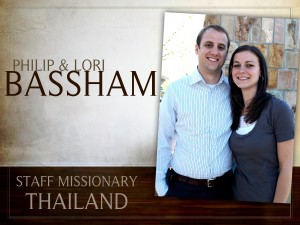 Just after 8 months of deputation, we are up to over 30,000 miles and have a third of our support raised!
This past month, we have been in churches in GA, AR, MO, MS, TN, and SC, and many of them have taken us on for support. We are excited that the Lord is raising our support.

Ordination
I will be getting ordained on June 23, 2011! If you are able to come, I would like to invite you to this special day of being ordained into the Gospel ministry of the Lord. I am excited about how the Lord has worked in my life and brought me to this point and could not be more thrilled about what the Lord has called us to do.
The ordination service will take place at 7 PM at Vision Baptist Church. The address is below:
Vision Baptist Church
1125 Alpha Dr.
Alpharetta, GA 30004

Announcing VisionTour Thailand 2012


Next year, when we head over to get final arrangements made for our permanent move to Thailand, we are planning on taking a group of people interested in Thailand with us to visit the field.
If you are interested in joining us, you can get more information at projectthailand.net/trip where you can find the application, schedule, financial information, and other ways to help you be able to join us. We are excited for you to come with us!
Starting our Setup Fund

As our support continues to come in, we look and plan more for that day when we will land in the country of Thailand to begin our work there. This will require much preparation and work to get set up in the country, so we are beginning to save now for that day.
If you would like to give specifically to this need, you may send it to Vision Baptist Missions and mark it "Setup Fund". Thank you for praying about this, and we look forward to that day!

Our Generation Leadership Camp Report


This past month we were a part of the OG Camp in Dayton, TN, and it was fantastic. We have been a part of this camp for the past 5 or 6 years, but I think this one was the best. Though it was a camp focused on missions, we had 5 or 6 saved and around 20 surrender for missions if that would be the Lord's will for their lives.
Thank you for praying and supporting us. Pray that the Lord would use us as we travel and especially that He would raise up laborers for Thailand.
Yours for the Gospel in Thailand,
Philip and Lori Bassham