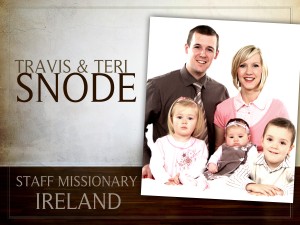 April was an incredibly busy month for us. In the three weeks leading up to Easter Sunday, April 24, we had to move out of our old church building, set up a new church office building, prepare for our big Easter service, and get out 30,000 pieces of literature!
Thank you for praying for the move to our new meeting place. It is working out great. The cost of renting the Irish Language Centre on Sundays for services and the office space across the street is within what our church can afford without any outside support. This is a great step toward the church becoming indigenous.
Inside New Building

The new building also seems to be a place where people are much more comfortable inviting their friends. It will take a while for people to know we are there, but hopefully as time passes we will see more and more people attending.
Leading up to Easter Sunday, we paid to get 20,000 invitations mailed, and then our church worked to distribute another 10,000 invitations. We did not see any visitors come directly from the literature distributions, but, on Easter Sunday, we did have 27 in attendance with 5 first-time visitors.
We are continuing to work to reach out to our community. We are trying to think of new ideas for how to reach people. We are planning a Family Fun Night on Saturday, May 14 and a Friends and Family Day on Sunday, May 22. It is our hope that these events will be something to which the people who come to the church will invite their friends. We are also continuing to broadcast on a local radio station twice a week. We are also going to continue working on a magazine that we can distribute to people and to homes as we go door-to-door.
Men's Retreat

At the end of April, we were able to go to down to County Waterford in the South of Ireland for a men's retreat hosted by Bible Baptist Church in Cork. It was great to fellowship with the 80 men who attended from all over Ireland. Sam and I were both able to preach at the retreat.

Family Photograph
Following the very busy month of April, we were able to take a week's vacation as a family. It was great for Teri and I to get away with the kids. We went down to Sligo, about 2 hours south of us. While there, we visited several counties in Ireland that have no Baptist churches. Please pray that God will raise up laborers to go to areas like the West of Ireland that has very little gospel witness.
Thank you so much for your faithful prayers and support.
Travis, Teri, Grant, Darci, & Cali Snode