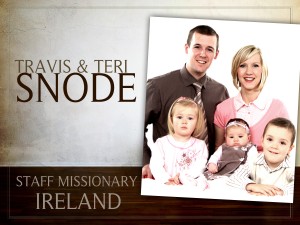 Outreach Update
Since the beginning of the year, we have been working harder than ever to reach new people. We have been focusing most of our efforts on the cityside of Derry due to the great need there. The Lord has blessed with some new people coming into the church and getting involved. We recently ordered 10,000 new brochures for the church. We received those brochures on last Thursday and since then, our church has gotten 2565 out to new homes. Many of the people in the church have been involved in helping us get them out. So far we have not seen any visitors from these brochures, but we have had at least one visitor in each service for the past several weeks. You can click the image below to view the entire brochure.
We are planning several special outreach events over the next couple months. On 17 March, we are planning to open our church up to the community with a Festival on St. Patrick's Day. There is a St. Patrick's Day parade in our city on that day, and we want to provide a place for families to come, have fun, get some rest, get to know us, and learn about the real St. Patrick and about Jesus. We will be printing 5,000 flyers below to pass out and invite people to this event.
On 13-15 March, we are having a Bible Conference and Children's Rally. The 3 April is Mother's Day here, and then 20-24 April, we are planning some Easter Gospel Meetings leading up to Easter Sunday on 24 April. We are going to do everything we can to invite people to our Easter Sunday service. We are asking God for a record attendance on that day. We plan to print 10,000 invitations and get them out in our city.
There is a great need in our city. Would you please pray for God to open hearts and give us wisdom as we strive to share God's love and hope with those who need Him most?
European City Spotlight: Moscow, Russia
We are serving the Lord as church planters in the British Isles, but we have a burden for the whole world and a heart for the continent of Europe especially. I am going to try to periodically post some information about some of the largest cities in Europe to raise awareness of the need, generate prayer for laborers, and stir the hearts of God's people to go and take the gospels to these key cities.
Pray for Moscow, Russia

Several years ago, I had the opportunity to spend about a day in Moscow along with my pastor and several other members of the BCWE team. We were only there less than 24 hours, but it made an indelible impact on my mind.
It was November and very cold and snowy. We walked through downtown Moscow to a historic fortified complex at the heart of the city called the Kremlin. Near the Kremlin is St. Basil's Cathedral and Red Square (pictured above).
We met with an American missionary there and a Russian man from his church. They showed us what they could of the city in the time we had. I remember there being some beggars on the street and someone saying that it was cheaper to use Vodka than washer fluid to clean their windshields.
Here are a few statistics about the city to spark your interest and fuel your prayers:

* Population in the Moscow metropolitan area is nearly 15,000,000 people.
* The city is a major political, economic, cultural, scientific, religious, financial, educational, and transportation centre of Russia and the world.
* Moscow is the most populous city on the continent of Europe and the seventh largest city proper in the world.
* Moscow is the site of the Moscow Kremlin, an ancient fortress that is today the residence of the Russian President and of the executive branch of the Government of Russia.
* The Kremlin is also one of several World Heritage Sites in the city.
* The city is served by an extensive transit network which includes four international airports, nine railroad terminals, and theMoscow Metro, second only to Tokyo in terms of ridership and recognized as one of the city's landmarks due to the rich and varied architecture of its 182 stations.
* In 2008, Moscow ranked top on the list of most expensive cities for the third year in a row. It costs about US$2500 per month to rent a 1-bedroom apartment and about US$1500 per month for a studio in the center of Moscow.

Our Generation Camp – Fort Bluff, TN

On May 30-June 3, our home church, Vision Baptist Church, is hosting a summer youth camp unlike anything you have ever been to before! Missionaries from around the world will be flying in to spend time with teenagers and spread a passion for world evangelism.
The camp will be unique, in the fact, that it is all about missions. From the speakers to the break out sessions, and even the games, will help turn you heart and mind to bringing God glory through global missions.

Click here to find out more about attending.