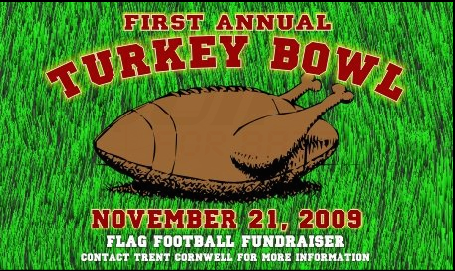 We hope you are making plans to join us this Saturday for the 1st Annual Turkey Bowl! Contrary to popular belief we are not bowling turkeys or seeing how many bowls of turkey we can eat. We will be having a flag football game. The "Old Timers" verses "The Whipper Snappers". We are suggesting a $5 for watch or play. The Students of Vision will be using the raised funds to show the love of Christ to a family in need this Christmas season!
Need to know info:
Time: 1 pm – 3 pm (First game starts at 1 pm)
Where: The Evans Farm subdivision in Cumming, GA. The field is behind Lang & Faith Insisiengmay's
home at 4305 Gavira Court Cumming, GA 30040
Weather: We will play despite a little rain if necessary. However, we will not play in hazardous conditions. If you have a question about the weather on the day of the vent call Trent Cornwell (770.853.8148).
Please come out and play or just watch. It is for a good cause and will be a great deal of fun!