We're continuing to feature one of the 41 missionaries and ministries Vision supports, and this week, we'll be getting to know Jeff Bush, director of Vision Baptist Missions.
Jeff Bush has always loved sweet tea, so his recent move from Argentina to the state of Georgia has only given him more access to this much-loved southern beverage. It was, however, a little bit of an adjustment for him to return to speaking English daily, after living in South America as a missionary for 12 years. Jeff spent 8 of those 12 years in Argentina, where he established and turned over four churches to national leadership, started a Bible college, and set up a radio ministry.
This experience on the foreign mission field has helped prepare Jeff to become the director of Vision Baptist Missions (VBM), a local church ministry of Vision Baptist Church whose purpose is to facilitate the needs of missionaries who have been raised up and trained in the local church. Jeff had this to say about his new role at VBM: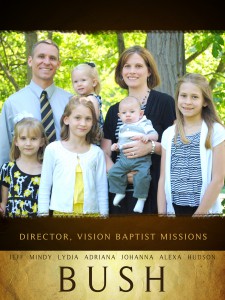 Preaching, recruiting, and helping churches and missionaries is not a theory to me; rather, it is something the Lord allowed me to be a part of in Argentina. As VBM director, I desire to help and encourage our current missionary families in any way possible, while recruiting new missionaries for world missions. I want VBM to become a strong force of Gospel-preaching, church-building, leader-training missionaries on every continent and in every country on the globe
Jeff plans on leading several missions trips to South America in 2013. Trips to Ireland, North Africa, South Africa, Peru, and Spain will be led by other missionaries on the Vision team. Jeff hopes that missions trips like these will provide people with the opportunity to see and surrender to the work of the Lord. A list of VBM missions trips and dates can be found at visionbaptistmissions.com
Jeff shares his ministry and passion for missions with his wife, Mindy, and their 5 children, Lydia, Adriana, Johanna, Alexa, and Hudson.