This year, our community outreach has already tagged close to 2,300 doors, in only two month! We are very excited about this, and are on pace to tag over 13,000 doors in the community! Wouldn't it be exciting to be a part of that?
On February 25th, 39 different people from Vision gathered for a breakfast, and more importantly, to go and pass out invitations in the community. Over the next 2 hours, over 1,400 houses were given invitations to the church. Wow!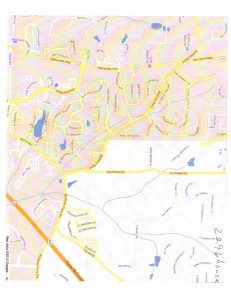 What an impact one day a month could make in the community. In the picture, you can see the highlighted areas we have visited. (If you need to see a larger image, just click on the picture)
Wouldn't it be great to be involved in reaching the community for Jesus Christ? The next group community outreach is going to be on March 24th. The Breakfast will start at 9:30 and once that is finished, we will continue to tag doors in the community.
It would be a great blessing, both to us and to you for you to join us!
March 24th, at 9:30 am. We hope to see you there!