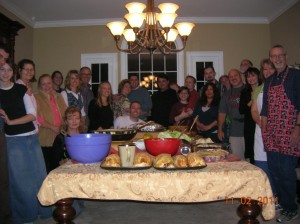 Every Sunday at our church at 9:30, you'll find people gathering together into small groups.  If you don't know what is going on, it might look kind of strange.  You might even think, "the people in this church take the clique idea to a whole new level."  But the truth is, you walked in on the Sunday school hour at our church.  And we want to invite you to join us!
Regardless of your age, marital status, or situation, we have a class that would fit you perfectly!  It would be a great time of fellowship and Bible study for you and your entire family!  Over the next few weeks, we'll give you a spotlight on the different classes so you will be familiar with which class you could attend when you come to visit!
Class Name: The Bridge Builders
Teacher: John Pearson
Group focus: Career and professional
Overview: The Bridge Builders purpose is to glorify God with our lives and all that He has made us to be.  We are a group of career and professional people at Vision Baptist Church that desire to grow in our hearing and our doing of the Bible.   We believe that through our profession we can give witness to what Jesus Christ has done in our lives and we can make disciples for Him
Currently Studying: Our first quarter study is on leadership principals from the book of Timothy

Upcoming Events: Outside of class, we like to spend time together having fun.  The above picture is from a recent class cook-off.
If you have any questions about our class, e-mail John Pearson at [email protected]
The below diagram demonstrates the goal of our class and the way they all work together for God's glory: