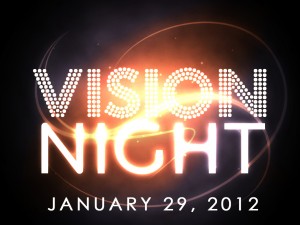 Sunday night will be one of the biggest nights of the entire year for our Church and you do not want to miss it: Vision Night 2012!
During this exciting night, Pastor will lay out his vision for our Church, our community, and our World for the coming year.  He will share his heart with us as he reveals his dreams and ambitions.  With the Fulton county church plant preparing to go into full swing, there will be some exciting and challenging things talked about.  Future renovations plans will be shared, as well as the progress on the Nehemiah Initiative.  New ministry plans will be uncovered and important areas to get involved in will open up. If you want to have any part in our Churches future, you will not want to miss this awesome night!
But the night won't all be about the future.  Several men will review what happened last year, allowing us to sweetly remember the Lord's goodness.  We will be able to rejoice over the victorious mountain tops, be sobered by the hardships, and, most importantly, learn from it all.
This night will definitely be a special time for our Church.  It will be a night you don't want to miss!  Join us Sunday night at 6:00 pm!