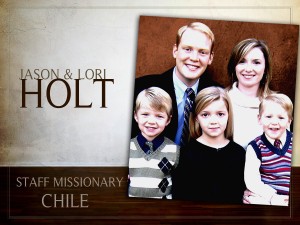 The only way to truly spark a church planting movement in Chile is through teamwork.  One person could never accomplish this goal alone.  The main players on this team are the Chilean people God has called and is calling to the ministry.  The key to reach a country for Christ is to train the locals to reach their own people.  At the same time, there is no denying that multiple foreign missionaries working strategically together can propel the church planting cause in any country.
Since I arrived to Chile in 2005, God has formed a team of Chilean and foreign church planters with a common goal of reaching this country for His glory.  I encourage you to faithfully pray for these families:
Jason and Lori Holt arrived to Chile in February 2005
Ivan Chacon, a Peruvian pastor, joined the team in September 2005
Jason and Jenny Kenney arrived to Chile in December 2007
Chris and Stephanie Mcbryar came to Chile in June 2008
Susan Moore  leaves for Chile in the spring of 2012
Josh and Elizabeth Ewing should be in Chile by late 2012 or early 2013.
Patrick and Leslie Henry will serve a 6 month term in Chile from July-December 2012
Travis Birge will serve a 6 month internship in Chile from March-August 2012
A young lady will serve a 9 month term in Chile from March-December to assist with teaching missionary children and ministering in local church activities.  Read moreabout how you could be that young lady!
I am so very privileged to work along side this fantastic group!! I can't help but think that God is going to radically impact Chile with the gospel through this team!