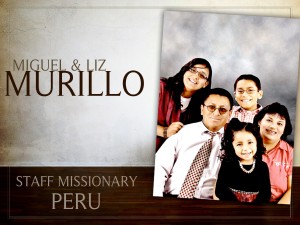 I thank God I am able to count on each of you and your prayers. Without a doubt, you form a part of all that is happening in different churches in Arequipa.

Esmirna
God blessed us this month with various families, and we began holding a second service. This is occurring at 10:15 and with Pastor Mauro Huaman. I am teaching Sunday school for teens at 8 am, and I preach at 8:45 AM. This second service has made it possible for new people to come, and last week we had 191 in total.

Hunter
This month, we had two weddings in the church. The last of these was a couple who had lived together for years until they came to church and accepted Christ. They grew and then formalized their relationship. It fills us with joy to see our brethren grow spiritually and restore their homes.
We divided the adult classes into four groups: Quechua, Senior Adults, Adults (whose spouses do not come yet), and husbands. This is the last class in which we are speaking on the topic of Love and Respect, and we expect to have twelve couples in total.
We also have ladies who meet during the week on Tuesdays in addition to making hospital visits on one Saturday and fasting and prayers the next Saturday. During this month, this was completed on Saturday 22nd of January with 17 ladies who prayed for pastors, leaders, and missionaries of our church.
Berea
We decided to add another missionary to support who was working in Apurimac. This year, he took the pastorate of a church in our city. He is a member of Victory Baptist Church, Juan Chavez, and we are sure that he will do a great job.
Please pray for our first anniversary. This month of February we will be preparing something very special for the occasion and inviting many people.
Radio
Until 2010, we were on FM radio. Unfortunately, the owner asked us for an increased amount of payment each month. The schedule in AM radio allows us to continue for now, but now we hope to be able to continue in the future in March or April.

Christian School
We are continuing to prepare for the beginning of the academy in March. We have delivered the documents for the end of the year, and they were approved. Each week, we meet with the teachers to coordinate schedules and annual events and to speak on topics concerning Christian Education. I thank God for the brethren dedicated to the work.
Macedonia Baptist Seminary

Together with Pastor Octavio Paredes, we have schedules ready and the calendar set for this year. We will have as teachers two missionaries and various pastors who will, with much love and desire, contribute to the preparation of young men and women for the ministry. This year, we received a student from Honduras who has lived in the United States for several years.

Prayer Requests:
– The Lady's Conference at the Macedonia Seminary from Feb 1st through the 4th.
– The Renewing of the Wedding Vows at Hunter and Esmirna the 13th Feb.
– The family retreat that will organize two churches in Ilo from Feb 18th to the 20th.
– Youth Camp in Camana from Feb 21 to 26.

Thank you for your friendship and faithfulness,
Miguel Murillo