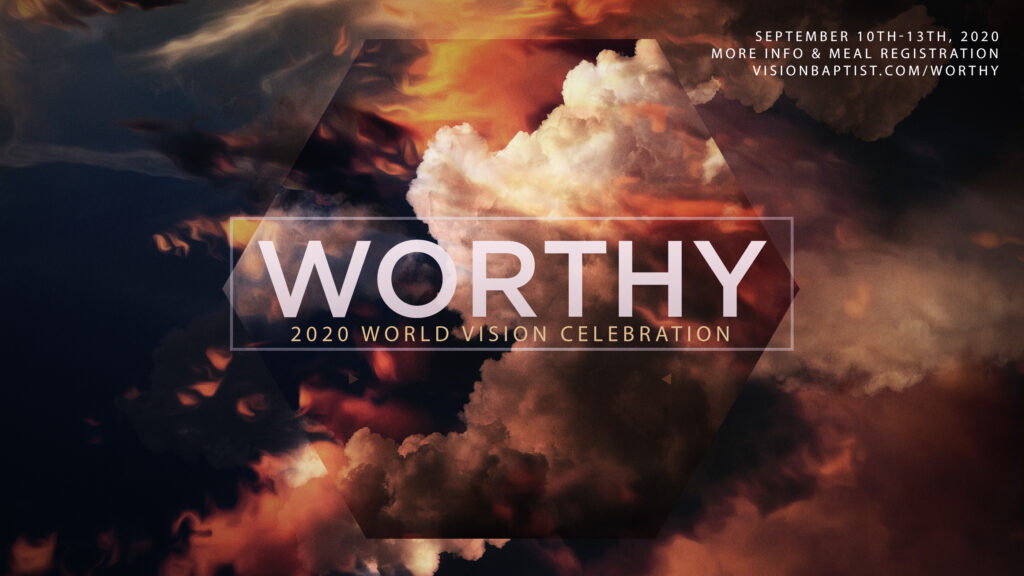 Is He worthy? He is!
During the week of our annual World Vision Celebration we will answer this questions in many ways. We have the opportunity of hosting 11 missionary families for these very important four days.
Below you will find our schedule for the week. Please, prepare now to be with us each service possible. We are excited to be able to offer a very special Kid's of Vision Missions Conference during our service times. Adam Walz (Missionary to Taiwan and former Children's Evangelist) will be working with our kid's ministry team to provide a great program for our kids. They will learn about Faith Promise and be introduced to our missionaries and their children.
On Saturday evening in the place of our annual International Meal we will have a short time of fellowship and Chick-Fil-A after the service. We are also wanting to encourage church families to spend time with the missionary families we are hosting in our conference. For lunch on Saturday we are going to ask you to Adopt-a-Missionary family for a meal and time of fellowship. If you are willing to host a family (in your home or take them out) please follow the link below.
Click Here to Adopt -a- Missionary Family for Lunch
Schedule
Thursday
Missionary Orientation at 5 pm
Service at 7 pm
Friday
Service at 7 pm
Youth event following the service

Saturday
Service at 5 pm
Chick-Fil-A following the service
Sunday
9:30 am Combined LifeGroups & Service