Bulletin for the Week: 12:14:14
Yesterday was our 3195 day as a church! It was as exciting, encouraging, and just simply wonderful! I am grateful to God that this, the church, was His plan for us. Our Sunday School and Adult Bible Fellowship time still continues to have a high percentage (83%) of our church involved. It also continues to be a great way for us to connect in our church. As we have said since the beginning, we are not just friendly we truly are friends!
In the morning service we learned about "A Women's Great Faith" from  Matthew 15:21-28. We were challenged in the following areas: To remember God loves people period, faith excites Him, our God has a plan for the whole world and we should all be doing our part to fulfill His will, reminded to not let your pride hinder you from coming to God for His blessing and work in your life, challenged to fully expect God to show Himself in your life, believe God right now. I have already received a text message this morning asking for the sermon. Here is a link: A Woman's Great Faith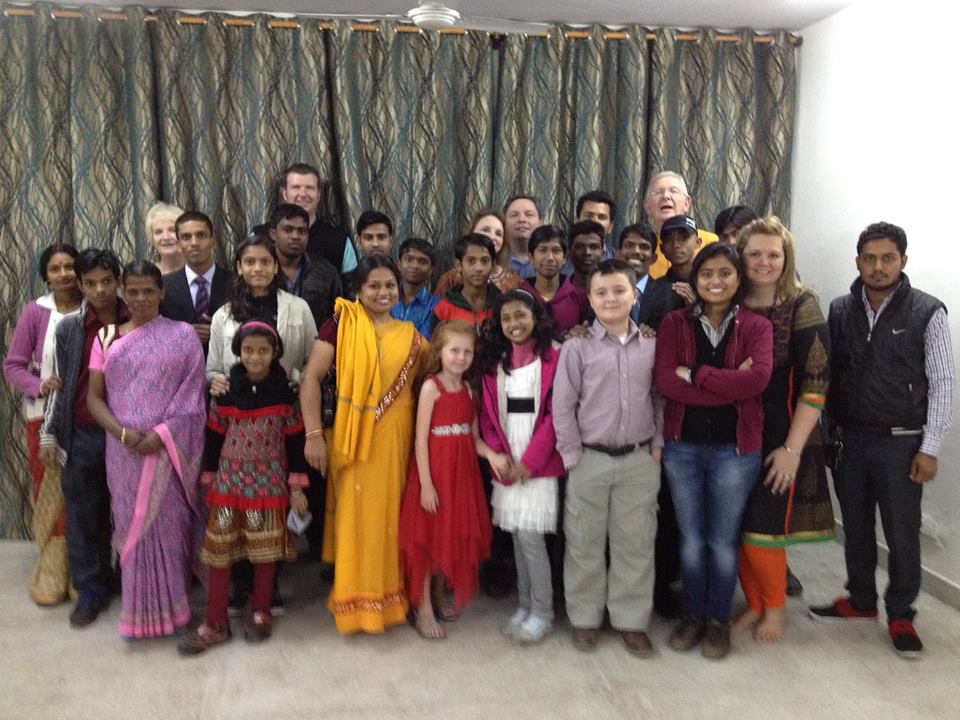 We also rejoiced upon hearing the news that a new church had been started in New Delhi, India and in Arequipa, Peru. Hearing reports like this before a sermon on living out our faith really challenges us! We are so excited to see how God is blessing around the world and how He is allowing us to be involved in it! In this picture you can see Kevin and Lisa Page (members of our church) and the Roberts family (our strategic partners). I assume that Eric Elrod is taking the picture.
Our 4:20 Volunteers Meeting was one of the best we have ever had, in my opinion. It is only reasonable that we get excited about what God is doing around the world with our missionaries. If we are not mindful we will stop to notice how good God is being to us here in Alpharetta. We were challenged to praise God for our victories and not get "used to it". One of my favorite quotes was about David. Pastor said "Everyone knew that God was able and they even knew God would use His people to do the work. What was different about David was that He knew God was able, that God could use Him, and that He could do it right now!" That is a paraphrase but you get the heart of it! We must believe God can use our lives today in this moment!
Last night we continued our series in Numbers. I am ashamed to admit but I never expected this book to be so exciting and relevant to our lives. It hasn't come alive – but we all our starting to recognize how alive His Book already is! We saw the story of Balaam. It was almost comical how Balaam pretended to be concerned about the Word of the Lord but continued to do his own thing. He would have been more comical if it hadn't been so true in our own lives. We need to be people who are sensitive and obedient to the will of God. We, as Balaam, can fall into the temptation of being self serving instead of God worshipping.
Quick reminder: We will have our Thursday night service this week, as normal, but for the next two weeks we will meet on Tuesday nights. Also Jimmy and Joy Soncco and their kids will be arriving on Thursday from Peru. Pray for them as they travel.