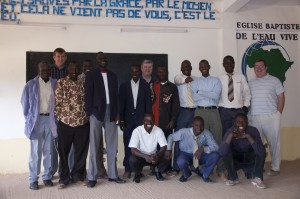 On monday, our Pastor and Chris Fies flew out to spend several days in the west African country of Burkina Faso.  They are on a fact gathering trip for Chris Fies and the exciting new ministry Voice in the Villages.  They have been working with Keith Shumaker and his great ministry there.  Here is an update Pastor Gardner put out on his blog on their time there:
It has been another great morning here in Burkina Faso. We started at 8 am. That was after a late night discussion of how we can use Voice in the Villages to better reach the rural areas of this country.

I have never met a man with more heart to reach souls than Keith Shumaker. His heart breaks to carry the good news of Jesus to this entire country. His problem is just how busy he is with so many other things. I pray that God will raise up other men who will come to help reach Africa.

Two of the Burkina Bay men are ready to begin the village work. They would like to start a church in June or so out in a major village. They will help us with the translation and preparation of materials.

I am so grateful to God for Chris Fies and how God is going to use him here. There are so many people and so much need. The men here are excited about reaching out.

Tomorrow, Lord willing, we will go to the village and have our first meeting. We are learning as we go. We are in the process of putting a team of translators and speakers together. Will you pray for us that God will raise the funds for Chris and also to set up the office here?

This ministry will teach us how we will do this all over the world.

These men are great. They love Jesus. They want to spread the gospel. We want to see an indigenous church planting movement started in the villages here.

I told them the story of what God has done in Kenya and Konate just told me that more will happen here in 30 years if God gives them that much life. I love their heart and faith.

I finished over 2 hours with the men and their wives. It was great to be with them. So much is new to them. What a privilege to teach them God's Word.
Please continue to pray for Pastor Gardner and Chris Fies as they work in Burkina Faso.