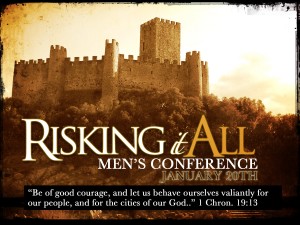 Be of good courage, and let us behave ourselves valiantly for our people, and for the cities of our God: and let the LORD do that which is good in his sight. 1 Chronicles 19:13
God has called men to lead.  To lead their families, their church, and their communities.  But leadership requires courage, bravery, and often sacrifice.  If you are a man, we challenge you to join us on January 20th as we gather together to be challenged to "risk it all" for what is important.  During the night, you will hear challenging preaching from Pastor Gardner and other great speakers on the importance of being a faithful, godly man.  You will be inspired by the great music from the Pilgrims.  And of course, there will be a steak dinner and a time for fun and great fellowship.
Here is a basic schedule.
7:00 – 12:00 am
6:00 pm      Door Open
6:50 pm      Welcome
7:00 pm      Opening Session
8:30 pm      Steak Dinner & Cornhole Tournament
9:30 pm      Second Session
Last session ends at 12:00 am. 
The cost is only $15 per man. The price includes the handout and steak dinners.
Please, register so we can be prepared for you when you arrive. You can register here!  We look forward to having you join us for this exciting night. If you have any questions please let us know. You can email us at info@visionbaptist.com or call us at 770.456.5881.