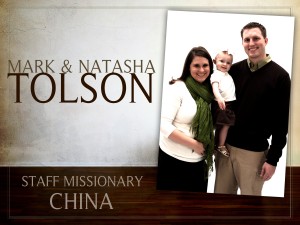 Dear Pastors, Partners, & Praying Friends,
As the Bible states, "…that repentance and remission of sins should be preached in his name among all nations…" we are seeing this become a reality in our lives as we slowly understand and learn this language and culture. We still have a long way to go but it has been a joy to start experiencing small opportunities to share the Gospel in the language the we have given our lives to learn. To God be the glory!
We completed our 8th month of language acquisition and we are continuing to progress. I was able to preach at the end of the month for around 15 minutes. Also, I was able to start studying the Bible with a guy. It has been hard and a blessing at the same time. Please pray for more opportunities as our ability increases.
The 27th of last month marked one year since our little baby boy was stillborn. It was hard to believe that a year has already passed. Our lives have changed so much since this time last year. Wesley changed our lives and helped us grow stronger, trusting and leaning on the grace of God. Our family wants to express our "thanks" to all those who have prayed for us and cared for our family during this time. Thank You!
Also, we recently released information about a new project that we are involved with called "Voice in the Villages: China." It is a project the we are working together with our home church, Vision Baptist Church, providing material and training for pastors in villages and the least desirable areas. Every month there is a PDF prepared with essential material to help these rural pastors. There has been a full-time translator hired to translate these PDF's into Chinese. Then they will be printed, put into a notebook, delivered to the rural pastors and we will hold a short training session with them. We have the cost of labour for our full-time translator, printing/notebook cost, and transportation cost driving out to the villages. If you are interested in financially helping us in this ministry, you can send all monthly or one-time donations to: "Voice in the Villages: China" P.O. Box 442, Alpharetta, GA 30009 (please make checks payable to "Vision Baptist Missions" with "Voice in the Villages: China" in the memo).

As we surveyed the villages awhile back it surprised me how many villages there are. We just kept driving and there were more and more villages. Will you consider giving your life to take the Gospel to the thousands of villages in China!
Thank you for being a part of our team, Project China, with your prayers and financial support!
In Christ,
The Tolson Family