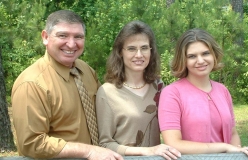 During our mission's conference, World Vision Celebration, you will get the chance to meet Fred and Sherry Kindhart! Our church supports this family and their missionary work.
I was just thinking that your knowing more about them might make you more interested in being at the conference. Fred and I have been friends for many years. Fred and Sherry first went to Mexico in their early twenties. They learned Spanish the hard way by literally living with the Mexican people.
Betty and I met the Kindharts as missionaries serving with Macedonia World Baptist Missions in 1986. I was so desirous of learning Spanish that I always gravitated to anyone who could speak Spanish. Fred was an expert. I wanted to learn all I could from him.
From Fred I learned how to fit into another culture. He showed me how to become all things to all people so that I might by all means win some. After Betty and i arrived in Peru the Kindharts showed up after 6 months. By then the language school had told me that I shouldn't pas out gospel tracts, raise my voice when preaching, give a public invitation to come to the altar to pray, and many other things.
I as quite discouraged and did not know what to do. Fred came and immediately set me straight. He took me out soul winning and we gave tracts to everyone including the police and no problem. He then took me to churches with him where he preached the house now. I was learning fast.
Fred gave me my start in the language and culture and I will always be indebted to him. While in Peru I invited him to Peru several times to preach meetings because of our friendship, his Spanish and the power of God on his life.
I am glad that he will be able to be with us and I hope that you will come and meet him. You can't meet Fred and spend time with him without loving him. He is a great blessing.
I promise you this is going to be a great World Vision Celebration. Make your plans to be with us.
Subscribe to Vision News by Email
Subscribe to World Evangelism by Email
Subscribe to World Evangelism News and Helps by Email